For the launch of the albums "Duel au soleil" and "La Montagne", Manuel Marsol, a talented author-illustrator, takes us into a dreamlike world, through an exhibition at the Michel Lagarde gallery, from May 23 to July 27, 2018 – 13, rue Bouchardon (Paris – 10th district).
Manuel Marsol was born in Madrid in 1984. He graduated with a bachelor's degree in advertising and audiovisual communication and he worked between 2009 and 2012 as an advertising creative. In 2012, he decided to change course, to devote himself to his passion for drawing. He then studied Illustration for Youth at the EINA School in Barcelona. In 2014, he was selected to exhibit his work at the Bologna Children's Book Fair. His albums for youth have been awarded many times and he won the 8th International Prize for Illustration awarded by the Bologna Children's Book Fair in 2017, for his work on «La Montagne» album.
The jury responsible for selecting the winner has justified its choice as follows :
"Highly original and displaying excellent technique, the artist steps outside the mainstream to speak with an independent voice – an extremely rare quality. Using strongly symbolic language, the author presents striking images, whetting the reader's curiosity to discover the rest of the story and what happens next. His strongly narrative yet at the same time, personal style, laced with irony and poetry, avails itself of a range of techniques, a versatility that combines an essentially pictorial quality with highly distinctive graphic ability".
The exhibition presents the illustrations of two albums: «La montagne», publisher : les Fourmis Rouges and «Duel au soleil», publicher : l'Agrume.
Manuel Marsol works in a traditional way. He creates his illustrations on wood and he uses, among others, gouache, acrylic paint and ink.
To learn more about Manuel Marsol, please visit his personal website and his Facebook page.
Portrait of Manuel Marsol – Photo credit: Duplouy.net
Poster of the exhibition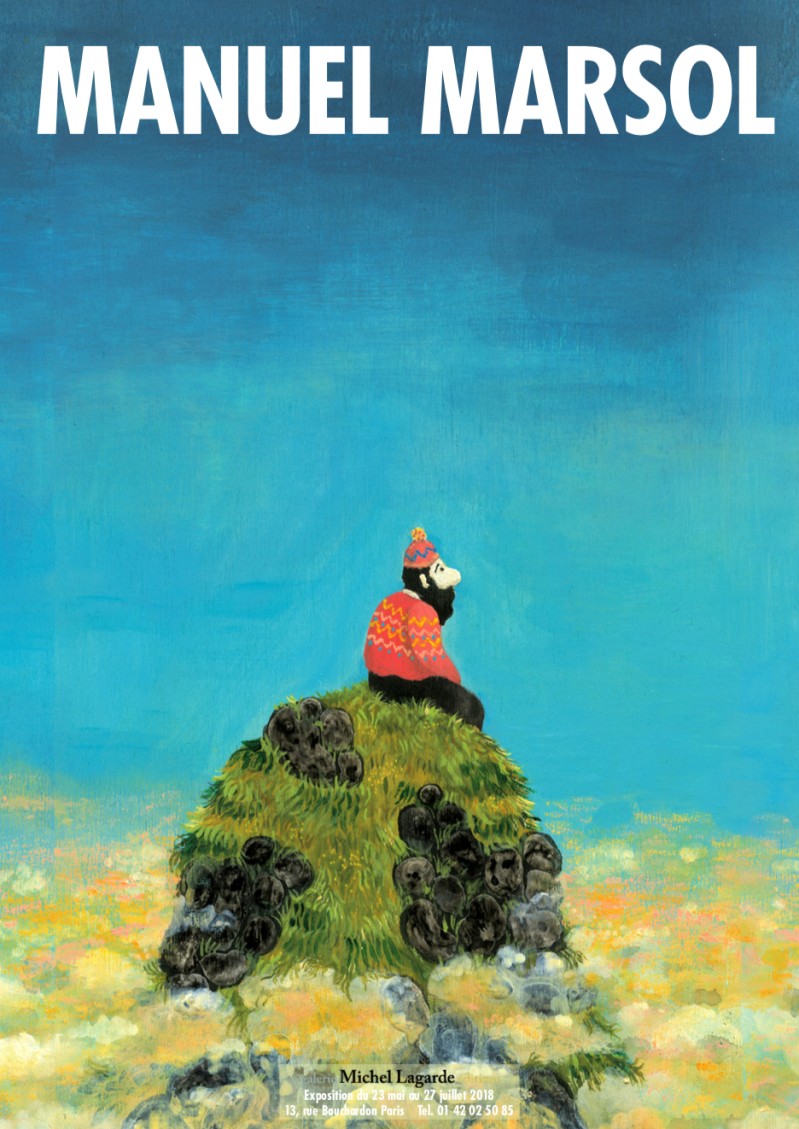 Illustrations from the album "La Montagne" and from the album "Duel au soleil"