Illustration: – Copyright Frank Margerin –
Exhibition "Lucien dans le sept-cinq" by Frank Margerin
from September 17 to October 3, 2015 at the City Hall of the 5th arrondissement in Paris,
21, Place du Panthéon – 75005 Paris – Salle René Capitant – from 11am to 6pm except Sunday.
Frank Margerin's book signing session on friday 25 September 2015 from 4pm to 6pm.
After studying Applied Arts, Frank Margerin turned to cartoon.
His first illustrations were published by girlie magazines: Lui and Playboy, in the late 70's.
His first comic books were published by Métal Hurlant, a comic book and science fiction magazine published by the Humanoïdes Associés.
While continuing his collaboration with the magazine Métal Hurlant until 1987, Frank Margerin published comic books, first to the Humanoïdes Associés, then to Fluide Glacial.
Frank Margerin is one of the authors of the classic Franco-Belgian comics.
His line, full and thick, is identifiable at first sight. This feature characterizes the "Margerin style".
Frank Margerin's universe is Paris and its suburbs, family, buddies, rock 'n' roll and mopeds.
His main characters, Lucien, Manu, Ricky, Gillou, Riton, are nice and terribly endearing guys.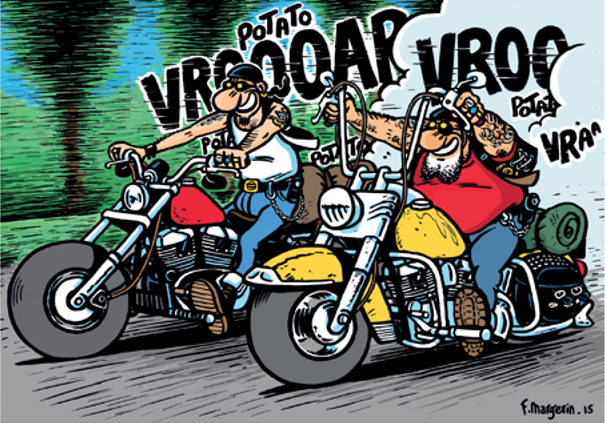 In the latest albums, Lucien appears with a grizzled banana hairstyle, he has gained weight but he remains still and always faithful to himself: a fan of rock'n'roll and bikes, surrounded by his friends and his family. Lucien and his buddies have grown old but they haven't really grown up.
In 1992, Frank Margerin received the Grand Prix of the Angoulême Festival. This distinction awarded by his peers, allowed him to realize that his talent was recognized by the world of comics, because despite his success, he still doubted it!
Frank Margerin's exhibition is part of the Parcours BD – 5 en Bulles, organized by the Merchants' Association of the 5th district of Paris, in order to promote and make known their neighborhood.
This cultural event runs from September 17 to October 3, 2015.
It offers 5 major exhibitions: Frank Margerin, Charles Berberian, Alex Varenne, Chongrui Nie and Patrick Marty, Stanislas Barthelemy.
It also offers many meetings and book signing sessions with comic book authors, particularly Saturday, September 26 and Sunday, September 27, 2015, from 2pm to 6pm.
You will find more information, on the 5 en Bulles website and on Rachel Hardouin's Facebook page, Rachel Hardouin is the one who organizes and orchestrates this comic book festival.
https://www.facebook.com/5enbulles
Photo credit: Duplouy.net